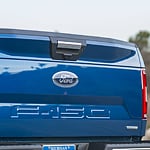 If you're in the market for a top-of-the-line pickup truck, you'll want to take a close look at the Ford F-150. The Ford F-150 is leading the industry today for a variety of reasons, including its outstanding performance features.
The performance features on the Ford F-150 include a tremendous towing capacity. The Ford F-150 is outfitted to be able to tow up to 13,200 lbs. In addition to outstanding towing capacity, the Ford F-150 performance features include a powerful engine complete with a 10-speed transmission. The transmission specifically, and the engine as a whole, is an industry leader.
Visit the friendly, experienced, and knowledgeable team at Bill Russell Ford Lincoln, located in Columbus, to learn more about the Ford F-150 and its exciting array of features. You can see the Ford F-150 perform on the road by taking the truck for test drive.