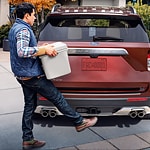 The new Ford Explorer is one of the top SUVs in its class. This popular vehicle is also a best seller. Consumers can expect a wide array of features as well as a wide range of technologies. Up to five people can seat in the cabin. Check out the available capability functions by reading below.
The new Ford Explorer offers proficient and efficient powertrains. Its twin-turbocharged engine will generate up to 400 ponies while producing as much as 415 pound-feet of torque. Of course, this immense amount of power comes with the ST trim. Consumers can select the brand's EcoBoost V6. This engine will generate 365 horsepower as well as 380 pound-feet of torque. The new Explorer comes equipped with a 10-speed automatic transmission for smooth and consistent shifts. There's also Intelligent four-wheel drive as well as selectable drive modes.
Test driving this vehicle couldn't be easier, so hit us up at our location as soon as possible.